La crosse technology weather station reset , La Crosse Technology wireless weather forecasting station will inform you about the temperature of indoor/outdoor and humidity, barometric pressure history, moon phases, time and date atomic. Their weather forecasting features use three weather icons and weather trend indicator.

Indoor and outdoor temperature in ° F and ° C and humidity (% RH) value.
Records minimum and maximum values with time-stamps.
Barometric pressure with historical graph.
Time atomic clock with auto-update.
Indoor comfort level icon.
Resetting la crosse weather station
Cover the solar panel of the Wind sensor for 15 seconds. Gently press the reset button (inside little hole on the bottom). This assures the wind sensor is turned off.
Remove the batteries from the Thermo hygro and Rain sensors for 2 minutes.
Expose the Wind sensor to light and gently press the reset button to turn the wind sensor on.
Replace the batteries in the Rain, then 2 minutes later the Thermo hygro sensor.
After 2 minutes press and hold the UP ARROW on the display until it beeps. Wait 15 minutes. If you do not have data from all your sensors, factory reset.
Factory reset how to reset lacrosse weather station
A Factory Reset erases all connections to the gateway or USB and sensors.
Have the display and all sensors 5-10 feet apart with no barriers. It can take several tries to get the Wind and the Rain to connect. Place the Wind sensor in full sun or under a lamp for 24-hours to recharge.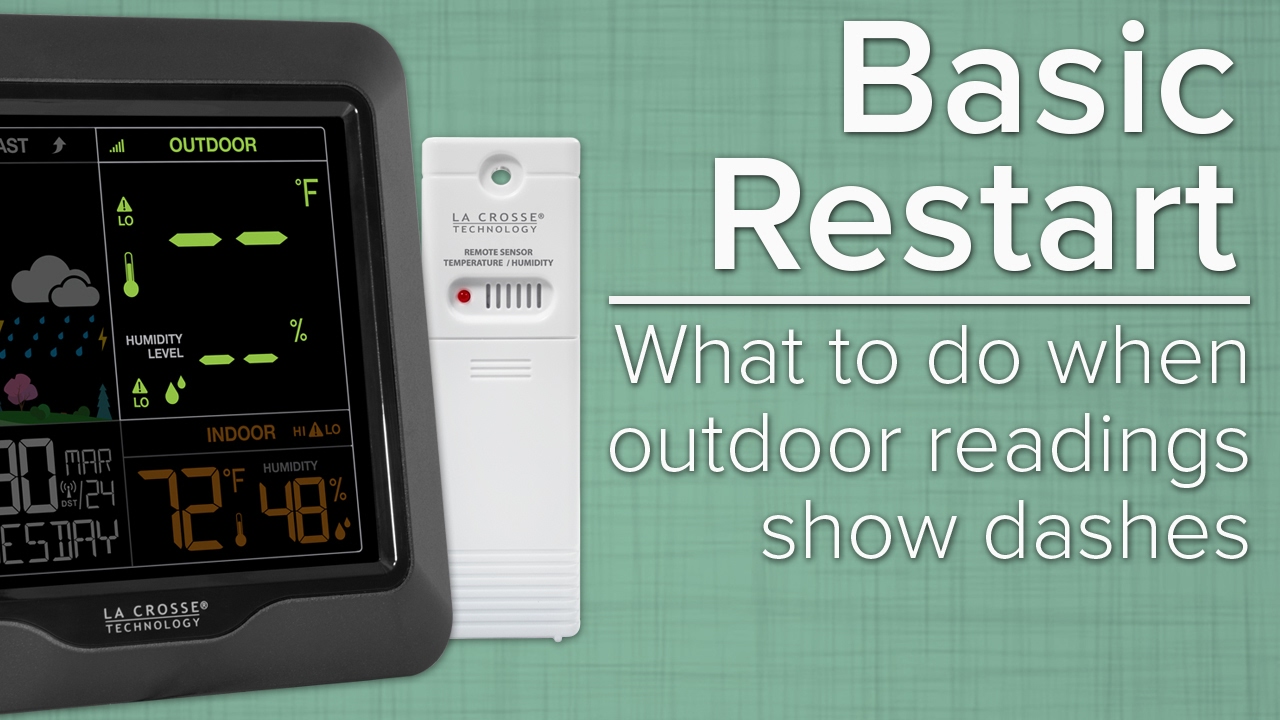 DISPLAY PROGRAM MENU: Press and hold the SET button until you see the LCD value flash. Press and release the SET button until you see 'rES oFF' flash.
FACTORY RESET ON: Use the UP ARROW key or  DOWN ARROW key to turn res on. (Note: On C84612 select res ALL.)
CONFIRM & COUNTDOWN: Press the SET key to confirm and a timer will count down from 127. When done shows, remove the batteries from the display for 15 minutes.
As you wait, repeat the Quick Restart steps 1-4 (above).
La Crosse Technology's wireless weather stations measure the outdoor temperature and humidity via a wireless remote sensor. This sensor is mounted outside and transmits temperature and humidity data to the indoor display unit with a 433 or 915 MHz signal. Depending on the unit, the wireless sensor range is from 80 feet to 330 feet. The best place to mount the sensor to measure outdoor temperature and humidity is underneath an overhang, out of direct sunlight and direct rainfall.
Lacrosse weather station forgot password

ALLOW THE SENSORS TO RUN FOR TWO MINUTES.
INSTALL BATTERIES INTO DISPLAY: Check polarity as marked inside the battery compartment. Watch the lower left corner of
the display on startup and record the firmware version (a 3 digit number).
15 MINUTES: Wait 15 minutes for the outdoor weather data to display. If you see dashes, repeat the quick restart.
A factory reset removes the display's registration with La Crosse Alerts. The device & gateway will need to be removed/reregistered
Mount the Rain and the Wind sensors in line-of-sight of the Thermohygro sensor without obstruction (200 feet or less). Batteries remain the #1 warranty issue. Use alkaline batteries dated 6 or more years in advance. Name brand batteries make less noise, which reduces the chance of RF interference from the battery compartment. Use a voltmeter to ensure a minimum 1.48V for each battery. Use of rechargeables is at your own risk.

Contact La Crosse Technology Support how to reset la crosse weather station
E-mail : Use the above online form to e-mail Customer Support https://www.lacrossetechnology.com/support/contact_lacrosse.php
Call : Customer Support Tel: (608) 782-1610 Mon-Fri: 8:30-5:00 p.m. CT
Mail : La Crosse Technology ATT: Customer Support 2809 Losey Blvd. S. La Crosse, WI 54601
La Crosse currently has 4 brands focused on different types of products:
La Crosse Technology.
Its target market has been and is to focus on the meteorological stations for the home and have barely touched the professional sector in a forceful way, at least in Spain, although they have some model as we will see that have many features.
La Crosse Clock Company.
Brand designed to offer all kinds of classic wall clocks with hands.
La Crosse Alerts Mobile.
Area of the company destined to provide monitoring solutions and send alerts by mobile phone of temperature, humidity or floods.
La Crosse.
The traditional brand that offers thermometers, raingauge, meteorological radios (which in Spain are not used because there is no frequency of NOAA).
Equity by La Crosse.
It is the brand that sells the typical digital alarm clocks.