How to activate WatchESPN in AppleTV, WatchESPN is a sports streaming service has a live 24/7 programming of your favorite ESPN networks on your computer, smartphone, tablet, Xbox 360, Xbox One, Apple TV, Google Chromecast, Amazon Fire TV and Roku. Similar to the devices on iPhone and iPad, except for the size of the screen and the activation method.
In order to see the live broadcasts of WatchESPN in AppleTV it is necessary to have a subscription of cable TV or satellite between the main ones are AT&T U-verse, Charter, Comcast XFINITY, Cox, DirecTV, DISH, Time Warner Cable and Verizon among others, WatchESPN offers Live streaming access to thousands of games and events on ESPN networks, including: NFL Monday Night Football, regular NBA season and playoff games, Major League Baseball and more. For sports fans, WatchESPN is an essential application.
Steps to activate Watchespn on Apple TV
Quick Tip: Open App Store –> Search for ESPN –> Select the ESPN app –> Open the ESPN app and activate it.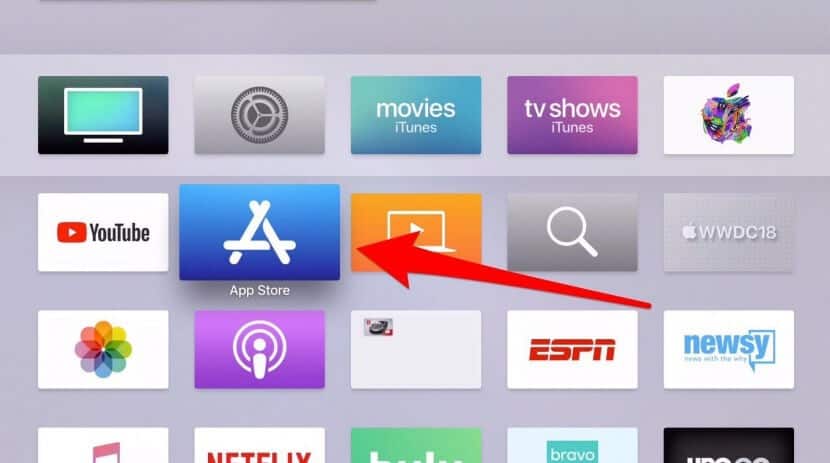 After connecting all the cables, power on Apple TV.
Go to the apps column and click on the App Store to open it.
On the search bar, enter the app name as ESPN.
Select ESPN from the suggestions list.
Highlight and select the Get button to start downloading the app.
After the installation, open the ESPN app from the home screen.
Click the Sign In button to get the activation code.
Go to the ESPN activation website on your smartphone or PC.
Enter the ESPN activation code and click the Continue button. Log in with your ESPN account for verification.
Now, the ESPN app on your Apple TV will be activated. Watch all the live sports events on your Apple TV.
How to Screen Mirror ESPN on Apple TV
(1). Install the ESPN app on your iPhone from the App Store.
(2). Connect your iPhone and Apple TV to the same WiFi connection.
(3). Go to the Control Centre and tap the Screen Mirroring icon.
(4). On the list of devices, choose your Apple TV.
(5). Now, open the ESPN app and play any live match.
(6). It will appear on your Apple TV.
Update Apple TV should be available installed WatcheEspnBefore you confirm that you are a cable TV subscriber, part of the contents of the WatchESPN application, it displays a padlock icon on your thumbnail. This indicates that it is necessary to register.
If you are a paid TV subscriber and want to enjoy the sports content of ESPN you need to after downloading the app actives your Apple TV.From the main application home on your Apple TV select "Enable TV "You will get the activation code of your device.
From the Web browser of a PC or Smarthphone head to https://www.espn.com/watch/activate and access with your username and password.In your profile, choose the option "My Devices " and enter the code you got on your TV and click on Activate. You should consider that the code is "case sensitive ", so to validate it correctly respects the uppercase and/or lowercase letters that it contains when it appears on the screen. Keep in mind that the code is updated daily, verify that it continues to be the same at the time of entry.
How to Watch ESPN on The Roku, Fire TV, & Apple TV without a cable subscription
Streaming with on-demand services like Netflix, Hulu and along with multiple live TV streaming services such as Sling TV, ESPN Plus, DirecTV Now and PlayStation Vue, all channels and successful series which were once exclusively under subscription of cable, services like Sling TV that for a small monthly fee and without contracts.
Sling TV
is your offer of sports channels, if you are a sports fanatic you can hire the Orange package of Sling TV, which for $25 a month offers you more than 50 channels, are ESPN Deportes, ESPN, ESPN2 and ESPN3 and you can also enjoy the service Game Finder , which allows you to know the schedules and channels in which the most important games of the NCCA and the NFL are transmitted.
Sling Orange
Free Roku Deal
$25.00/ month

34 channels

ESPN

Free Roku Express

1 simultaneous stream.

Sling Blue
Free Roku Deal$25.00/ month

49 channels

ESPN

Free Roku Express

3 simultaneous streams

Sling Orange + Blue
Free Roku Deal
$40.00/ month

56 channels

ESPN

Free Roku Express

4* simultaneous streams
Do you want more channels? For $40 a month you can have the Blue package that offers you more than 65 channels with the best television programming. Fox, TNT, Nat Geo, TruTV, FoodNetwork, NBC and CNN are just some of the options that you will have at your disposal at all times and on the device you want.
Hulu With Live TV
The service includes programming of the main networks such as ABC, CBS, Fox and NBC, taking into account that the availability of local television stations varies according to the market. It will also offer cable networks, including ESPN, CNN, Fox News, TBS, TNT, Disney Channel, and many other favorites that suit different tastes and ages.
Including sports, entertainment, news and children's programs. We offer a variety of subscription plans, starting as low as $5.99 for Hulu, or $44.99 for Hulu + Live TV. New subscribers can choose whichever plan works best for them and start their free trial today.
YouTube TV
Has between 60 and more than 70 channels, depending on location, in addition to its own YouTube originals channel, and all are included in the monthly rate of $49.99 dollars. Some of these are local channels, and they will not always be available at the general level, but depending on where you live.
The main channels that all receive are a good selection of the main stations (CBS, ABC, NBC and FOX), as well as entertainment channels, lifestyle and sports. This includes ESPN, ESPN 2, ESPN News and ESPN U (but not ESPN 3), as well as Fox, NBC, MLB and NBA sports channels.